Map of Ayutthaya Province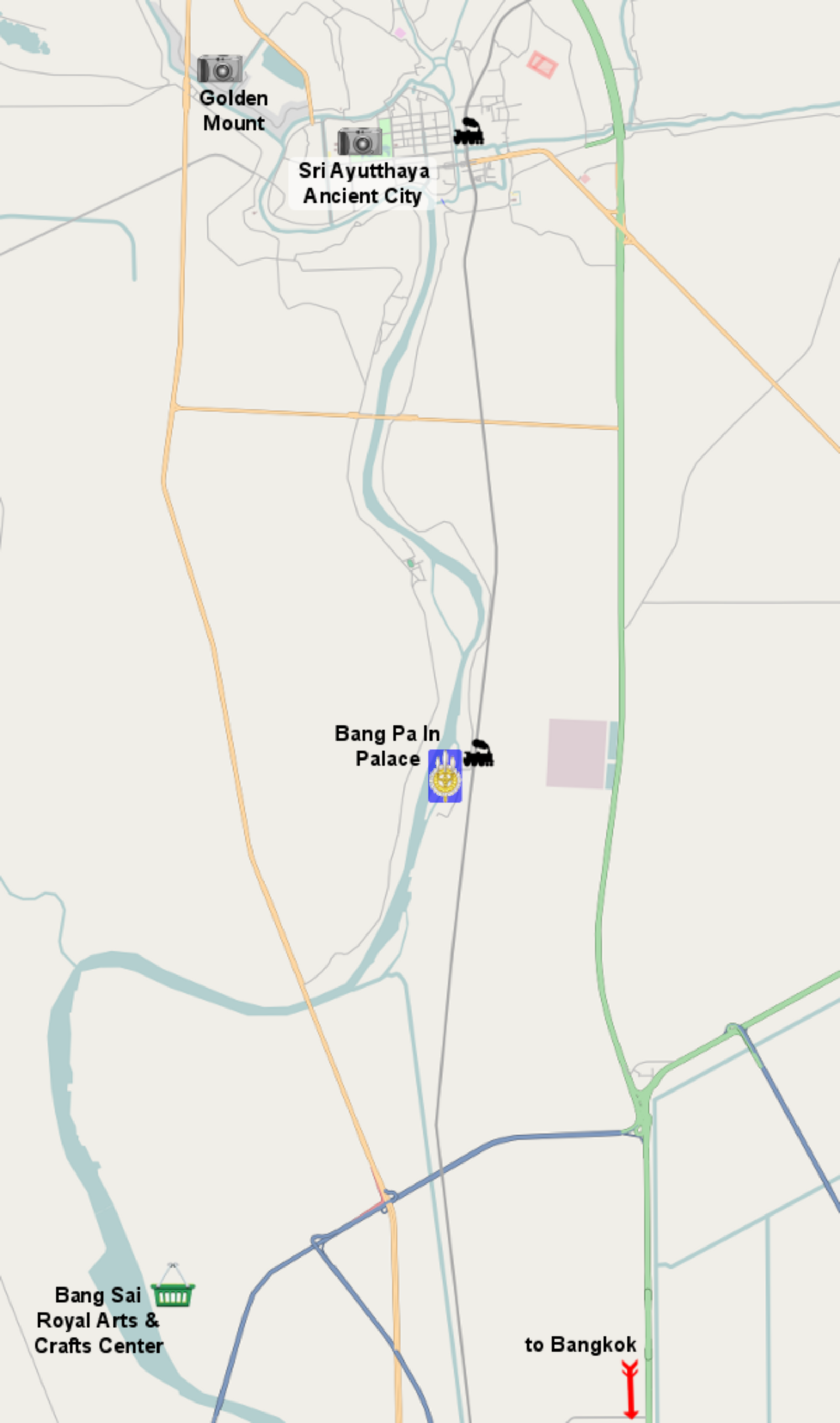 Click on any of the sights to find out more, or check out the summaries below.
Ayutthaya province is home to Thailand's former capital, the golden city of Ayutthaya, center of an empire that dominated almost all of Southeast Asia and lasted 400 years, until it was destroyed and sacked by the Burmese in 1767. Despite the destruction, some impressive sights still remain. Mosts tourists visit the city on a day trip from Bangkok, even though it could well be worth a few days for anyone interested in ancient architecture.
In addition to the ancient city, Sri Ayutthaya, there are a couple of other very interesting places to take in. Nearest to Bangkok is the Bang Sai Royal Arts and Crafts Center. About halfway between Bang Sai and Ayutthaya City is the summer palace of Bang Pa In.
Bang Sai
Founded by Her Majesty the Queen to help ensure the survival of traditional Thai handicrafts, the Bang Sai Royal Arts and Crafts Center has become something of a true cultural theme park.
The Bang Pa In summer palace.

Bang Pa In Summer Palace
A relatively modern royal retreat on an island in the Chao Phraya river. A rather tour-de-force in styles ranging from Thai houseboat to art nouveau to Chinese pagoda.
Wat Mahathat, one of many remains from Siam's golden age.

Ayutthaya City
The town of Ayutthaya itself lies in the center of the province, on an island formed by the confluence of the Chaophraya, Lopburi and Pasak Rivers. The city was founded in 1351 and became the capital of the Siamese empire that ultimately became modern-day Thailand. The Ayutthaya period was definitely Thailand's "Golden Age." Although sacked and destroyed by the Burmese in 1767, there's still quite a bit to see.
Day Trips
Listed below are any day trips currently available from Viator. These trips depart from Bangkok and visit all or part of the sights in Ayutthaya province.