Nakorn Ratchasima Province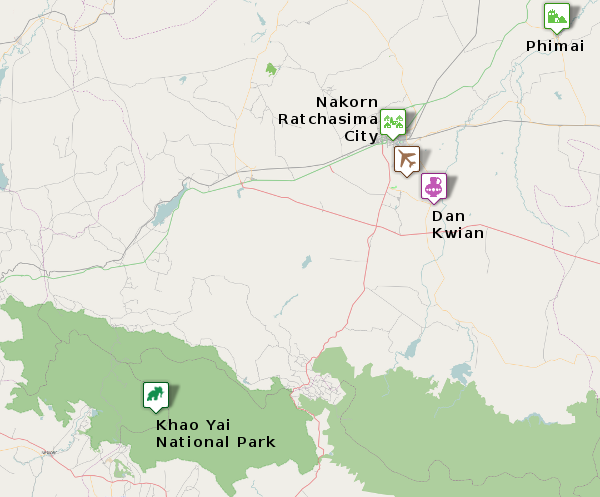 Click on any of the icons or labels for more information.
One of the problems with "exotic" destinations like Thailand is that the more popular they become, the less exotic they get. On the surface at least, the capital of Bangkok could be just about any modern city. Other major tourist destinations are often not much better. I know of at least one destination beach resort in the South of Thailand that seems to have gone out of its way to look and feel like it could just as easily be in the South of France.
Fortunately, there are still a lot of places where you can escape the tourist crowds and see something of the "real" Thailand. The Northeastern town of Nakorn Ratchisima, commonly known as Korat, is one such place. Located about 250 kilometers (160 miles) from Bangkok, Korat is essentially the gateway to a region Thais refer to as Isan, an area with its own distinct culture and cuisine. The city was also home to a major US Air Force base during the Vietnam war era. Thus there are a suprising number of expats around, as well as businesses that cater to them.
The two big draws to the province are the huge national park of Khao Yai, and the ancient Khmer-era temple of Phimai.