One of Chiang Mai's major attractions is its old city. While many old cities all over Thailand once had walls and moats, Chiang Mai is almost the only city where the old walls are still mostly intact. In addition, the city within the old walls still has many charming lanes that you can wander down at your leisure. The old city is my favorite area to stay in Chiang Mai, and there are many small hotels to choose from.
Chiang Mai Old City Map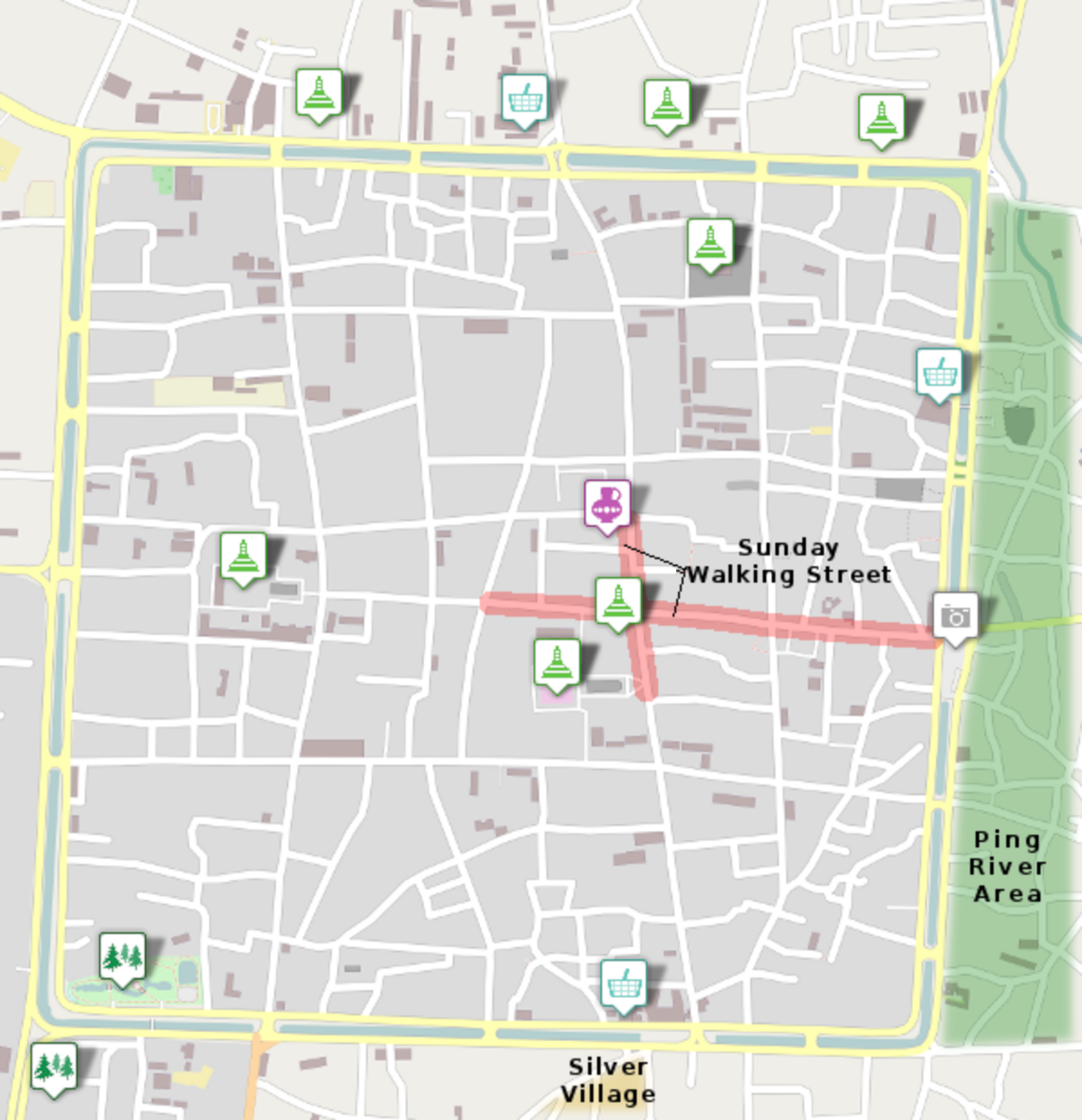 You may click on any of the icons for detailed information.
Base map image © OpenStreetMap contributors, CC BY-SA
Any tour of the old city would likely start at the Tapae Gate near the center of the eastern side of the walls. The gate was reconstructed in the 1980s to approximate what the gate and walls may have really looked like.
From here, we suggest you walk north along the moat. Near the northeast corner is the Sompet Market, one of several fresh markets within the walls. If you walk up the small lane at the center of the market, you'll pass around the back of Wat Laem Chang and come to Wat Chiang Man, one of the oldest temples in the old city.
If you exit the south side of the temple and turn right (heading west), the next main street you come to is Prapoklao Road. You'll be just inside Chang Puak Gate. Turning left will take you further into the heart of the city, past the Thai Airways office and then on to the old city hall and the Three Kings statue. The old city hall is now home to the Chiang Mai City Art & Cultural Center.
Continuing on down Prapoklao Road will take you to the intersection of Rajdamnoen Road. To your left, the road leads back to Tapae Gate. On one corner of the intersection is an old house now used as a gallery for the Chiang Mai Architectural Historical Society.
Just a bit further down Prapoklao Road is the small but beautiful temple of Wat Pan Tao, and its much larger neighbor, Wat Chedi Luang.
From these temples, if you backtrack to Rajdamnoen Road and turn left, the street will eventually dead-end at Wat Pra Singh, home to one of Thailand's most revered, and apparently most copied, Buddha images.
You can take it with you.
Wish you could have this information with you when you visit Chiang Mai? Now you can. Check out our ebook guides.
There's much more to see in the old city. If you follow the above walking tour, you'll no doubt see many other things worth investigating.