On the banks of the Mekhong River at the southern-most point of the Golden Triangle tourist area is the ancient city of Chiang Saen. The town is still very small, even though it appears to have been a major trading crossroads since the seventh century. It was probably part of the kingdom of Yonok, and birthplace of Mengrai, who founded the kingdom of Lanna.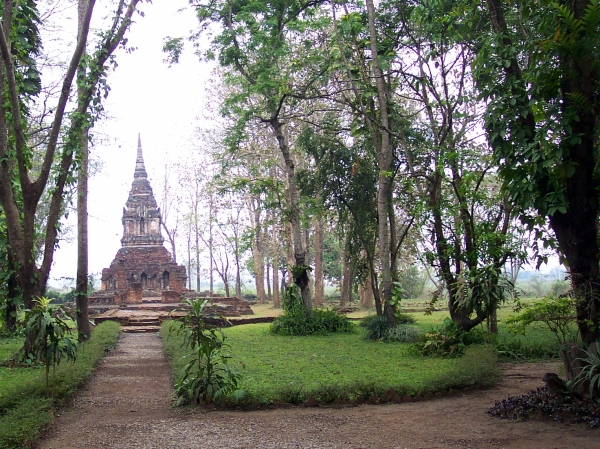 The ancient temple of Wat Pa Sak, just outside the old walls of Chiang Saen
It was actually around 1328 that the city you can see today was laid out when King Saen Phu, Mengrai's nephew, moved the capital of Lanna to Chiang Saen, which he named after himself. This is when the walls were built and the moat dug.
During the long history of conflict between the Siamese and Burmese kingdoms, possession of Chiang Saen passed back and forth. Finally, after pushing the Burmese completely out of Siam, King Rama I had Chiang Saen leveled in 1804 to remove it as a temptation to the Burmese. It was reoccupied by descendants of the original citizens in 1881 on the orders of Rama V.
Chiang Saen today is an interesting place to spend some time, although most visit on a day trip from Chiang Rai or Chiang Mai. You can easily make out the remains of most of the city's walls and moat, as well as several temples and defenses. In the grounds of the old Wat Mahathat is an information center that can provide you with current information about what has been restored.
The National Museum makes a good starting point if you plan to spend some time in the area.
This temple, with its large chedi, was probably the city's main temple during the city's heyday 650 years ago.
Just outside the western gate to the city is this temple, set in a forest of teak trees planted by its royal founder.
On top of a hill a short way from the city's northwest corner is this recently restored temple with its ancient gilded chedi and fantastic view of the city and the river.