About 100 kilometers south of Chiang Mai, Lampang is an ancient city founded in the seventh century, supposedly by the son of Lamphun's founder, Queen Chama Devi. In the nineteenth century the city was fortified with walls, and later became an important center of the teak industry. The city and its monuments has escaped much of the modernizations that have left many of the north's temples with little of their original decorations.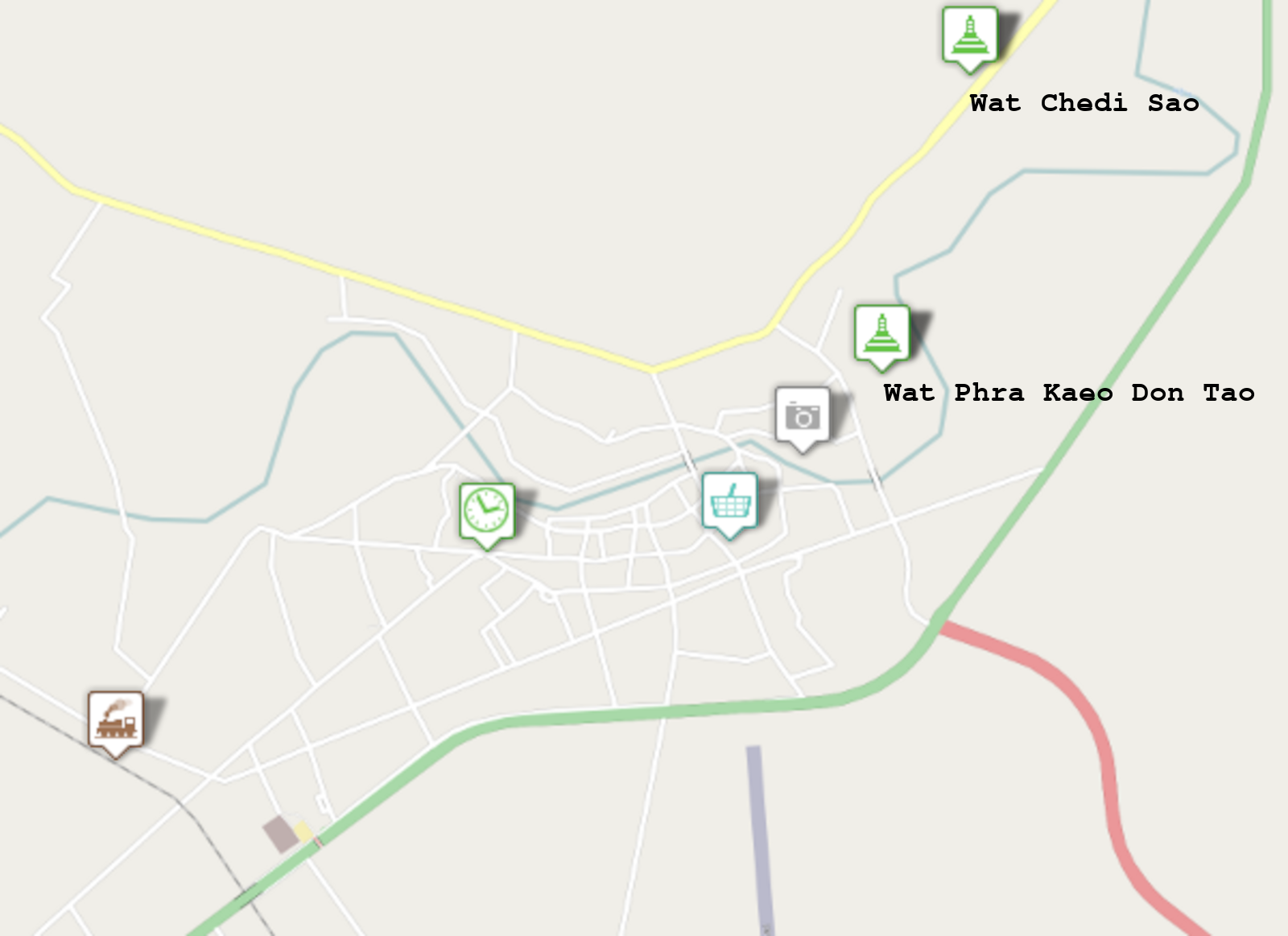 You may click on any of the icons for detailed information.
Base map image © OpenStreetMap contributors, CC BY-SA
Like all of the former northern kingdom of Lanna, Lampang was occupied by the Burmese for nearly 200 years. Much of this influence can still be seen in the temples of the city.
Lampang Sights
Since most visitors come on a day trip, the standard sights are usually limited to Wat Phra That Lampang Luang, Wat Phra Kaeo and Wat Chedi Sao. Some tours also take in Ban Sao Nak, a large wooden mansion close by Wat Phra Kaeo.
Getting There
Lampang can be reached on your own by regular bus from Chiang Mai or by train from either Bangkok or Chiang Mai. Most tourists see Lampang on a day trip from Chiang Mai.
Accommodation
There are a small number tourist and budget class hotels in Lampang, although few of them are available online. Use the search box on this page to see the best rates from dozens of sites for Lampang hotels.
One of the pony carriages that can take you around Lampang
Getting Around
Although Lampang has the usual array of tuk-tuks and samlors for transportation, the city also sports one unique method: the city's trademark pony carriages. While the conventional transport will get you where you want to go for 5 or 10 Baht, the carriages can be more expensive. They're usually used by tourists and so charge an hourly rate of around 120 Baht for a tour.