Lamphun often plays poor step-sister to Chiang Mai, just 26 kilometers away. Even though its older than Chiang Mai by about 500 years and is the capital of its own province, the town is generally only visited as a day trip from Chiang Mai. It is a small town, with some significant sights, but there really isn't much here to occupy you for more than a day.

Lamphun City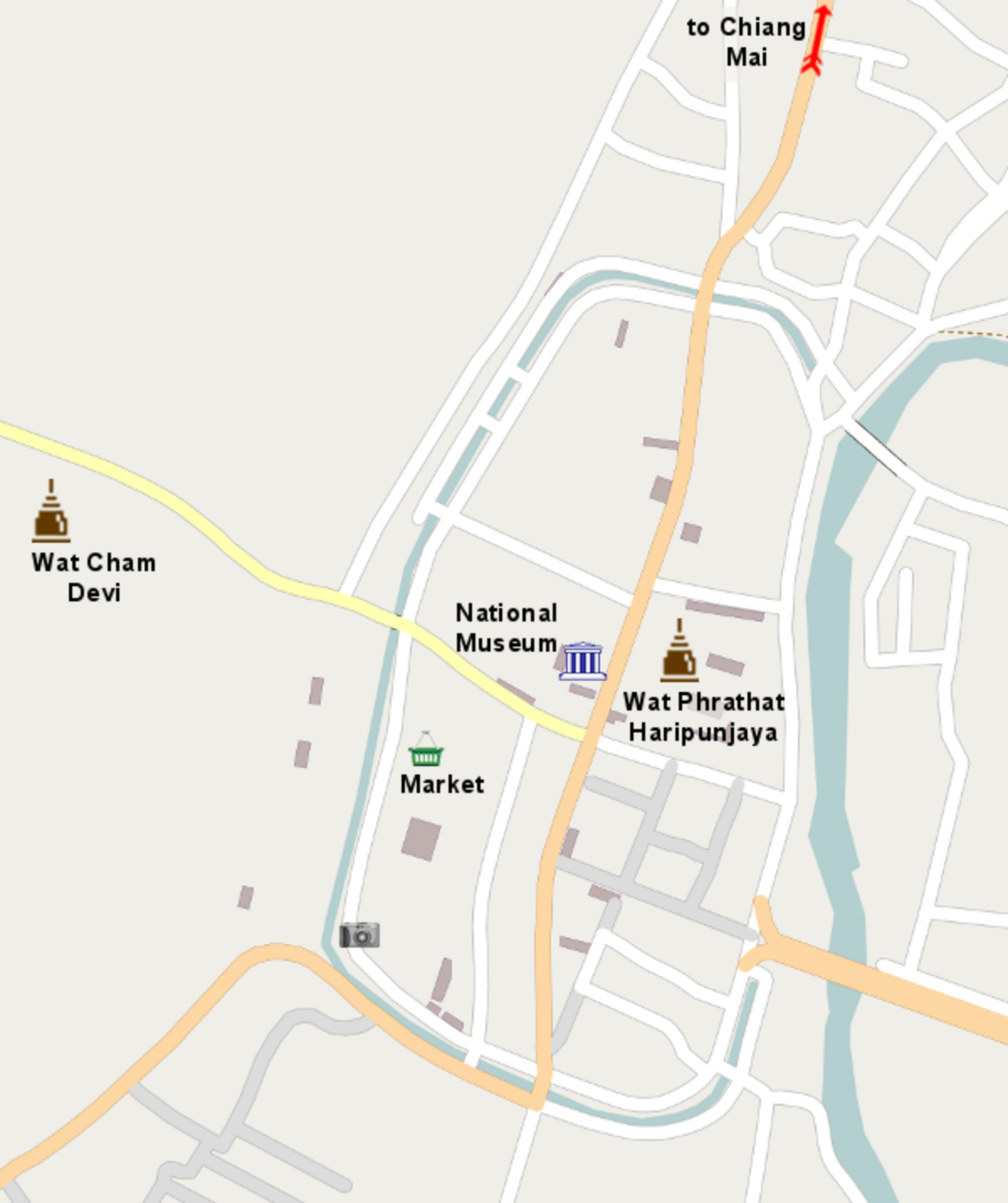 Lamphun is one of Thailand's oldest continuously occupied towns. It was founded in 660 by Queen Chama Devi, the daughter of the King of Luovo (now known as Lopburi). She founded the Haripunjaya Kingdom, which became the most powerful Mon center in the North for hundreds of years. It wasn't until 1281 that the city finally came under the influence of the Lanna Kingdom founded by King Mengrai, who made Chiang Mai its capital.
Orientation
The town is roughly oval in shape. The Khuang River, a tributary of the Ping river which flows through Chiang Mai, borders the town on the east side. A moat surrounds the other three sides of the city, and there was once a wall inside the moat, although both of these date from the early nineteenth century.
The most important sight of Lamphun is the highly venerated temple of Wat Phra That Haripunjaya, near the river on the eastern edge the center of town. The temple was founded in the late ninth century, and its gilded chedi was started although the chedi as you see it today is largely the result of a fifteenth century restoration by the King of Chiang Mai.
Just outside the western gate of town is the other important temple, Wat Cham Devi (also known as Wat Kukut). Founded in the eighth century, the most notable feature of the temple is its square chedi, built in the early twelfth century. The chedi is the largest and oldest surviving example of its type, popular among the Haripunjaya culture of the time.
If time permits on your day trip to Lamphun, a visit to the town's market and the shrine to Queen Chama Devi next door is highly recommended.
Getting There
Most people visit Lamphun on a day trip from Chiang Mai. If you want to get there on your own, you can catch a songtaew (a pickup truck converted to a bus) from the station in Chiang Mai across the Narawat bridge from the main city. The songtaews take the 'scenic route' along the old highway, which is lined with tall yang trees.