The waters around 'Turtle Island' contain the very best dive and snorkeling sites in Thailand. The water is remarkably clear and the marine life spectacular, with seasonal visits from such rare species as whale sharks and giant mantas. The island itself is one of the most beautiful in the Samui archipelago.

Koh Tao Map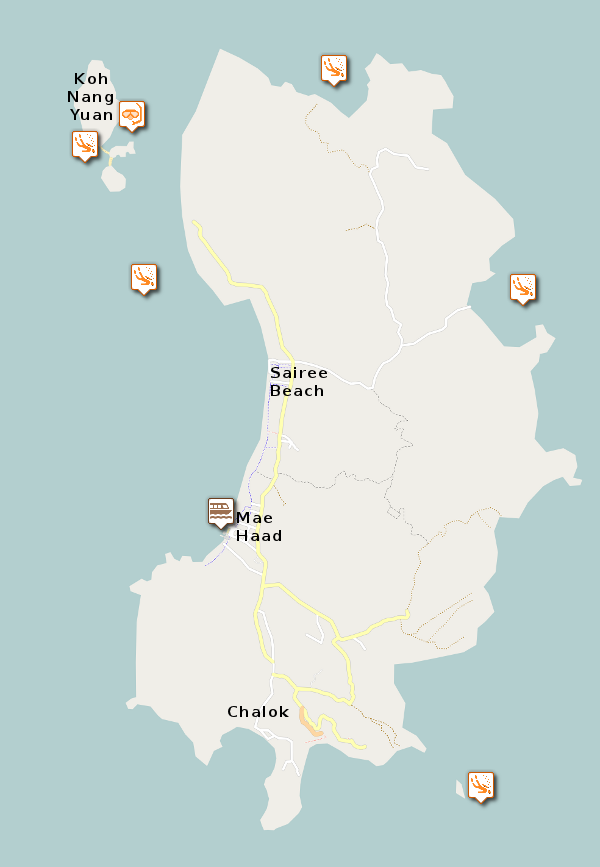 The map shows some of the popular dive sites around the island.
The island was actually uninhabited until the last century. For a while in the 1930s and 1940s, the island was used as a prison. When the prison was abandoned in 1947, a pair of twin brothers staked a claim and started farming coconuts. The backpackers arrived in the 1980s and nothing has been the same since.
The time was when accommodations on Koh Tao were quite rustic, to put it nicely, but now many more nice resorts are opening. Of course, there's still not much to do on the island if you're not a diver, so the major chains still stay away.
The island itself is quite pretty, with a landscape of large boulders tumbling down to the sea, interspersed by white sandy beaches. The island's infrastructure largely consists of dirt trails. If you're in the mood for a hike, there are some great views to be had from some of the island's peaks.
Naturally, anywhere you have adventure seekers, you're going to find some nightlife. It may not be very sophisticated, but there are certainly a number of places where you can get food and drink. For a guide to the dive spots around the island, see our related SEA Undersea guide to Koh Tao.