Map of Satun Province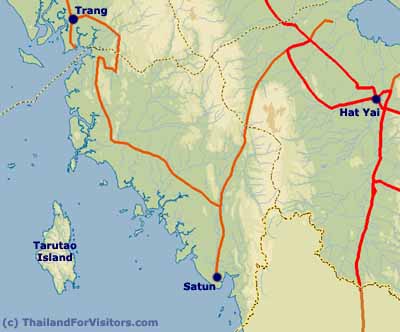 Satun Province, hard up against the Malaysian border, is where you'll first land in Thailand if you 'island hop' up the western coast of Malaysia -- which is not an entirely bad idea. Ferries from Langkawi Island as well as Kuala Perlis in Malaysia. Although a great many just pass through, there is reason to stay on in Satun for a few days.
Satun Sights
Thale Ban National Park

Covering 102 square kilometers (40 square miles) of the Thai coastal area between Satun town and the Malaysian border, the Tale Ban National Park consists mostly of pristine rain forests containing a huge variety of wildlife as well as spectacular waterfalls.
Hardly anyone had ever heard of this island before the American series 'Survivor' picked it for one of their locations. The diving off these islands is supposed to be among the best in the world.