The large pagoda with the Phra Ruang Rojanarit Buddha image in the north chapel
The giant stupa in Nakhon Pathom town, 56 kilometers west of Bangkok, is one of Thailand's oldest and biggest Buddhist monuments. According to some accounts, the temple was one of the thousands thought to have been founded by the ancient Indian emperor Ashoka, who ruled from 269 to 232 BC and sent missionaries throughout Southeast Asia to spread Buddhism after his conversion.
However, archaeological evidence and Buddhist Chronicles seem to point to a date in the fourth to sixth centuries AD. The original structure was much smaller. When the Khmer empire held sway over much of what is now Thailand in the eleventh century, they built a larger Khmer styled tower (prang) over the existing monument.
The Khmer prang fell into ruin over the centuries, then King Mongkut ordered its reconstruction in the nineteenth century. This restoration was completed in 1870 (two years after the death of Mongkut).
Plan of Phra Pathom Chedi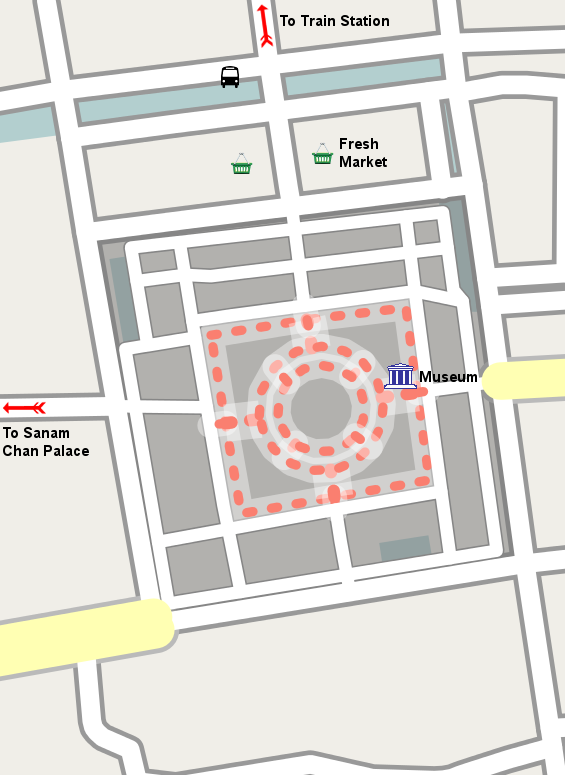 The tip of the spire is 127 meters above the ground. The chedi sits on a two-tiered square base and is surrounded by a circular gallery. There are large chapels at each of the four cardinal points of the gallery. Each chapel is different, housing a different Buddha image. The most popular of these seems to be the one facing north. It houses a large standing Buddha called the Phra Ruang Rojanarit, which was found in Sukhothai by Prince Vajiravuth, who later became King Rama VI. Actually, only the hands and feet were found, and the rest of the image was reconstructed from that.
The western chapel has, appropriately, a reclining Buddha image. The gallery is lined with niches, each of which holds a different image as well. On the first tier of the base on the east side is a small museum housing archaeological finds as well as other items of interest from the temple's past.
Admission to the chedi platform is 40 Baht (1.04 USD).