Hua Hin is Thailand's original beach resort. Starting late in the nineteenth century, it was visited with increasing frequency by the Siamese royalty. The arrival of the railroad in the 1920s opened Hua Hin to a wider audience. The charming Victorian-styled Railway Hotel was built soon after. Today, the hotel has become the Centara Grand Beach Resort and is a rare opportunity to experience the feeling of a bygone era.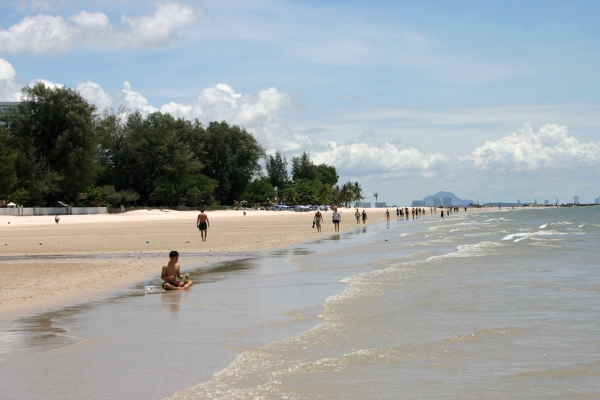 Hua Hin Beach on a busy weekend
In 1926, King Rama VII built a summer palace that he named Klai Kangwon, which means "far from worries". The name is somewhat ironic, when you consider that the King was in residence here when the 1932 revolution to overthrow the absolute monarchy started in Bangkok. The current King now spends much of the year at Klai Kangwon.
The rapid development that many other Thai beach resorts experienced over the last 25 years mostly passed Hua Hin by. As a result, Hua Hin has appealed as a family destination with very little of the sleaze that seemed to follow the development of other beach resorts. However, you will find the big hotel chains in Hua Hin, which these days is attractive as a get-away from Bangkok that is more relaxed than Pattaya.