After spending an hour or so exploring the temple, you're going to be thirsty. In fact, if you've started out from Korat in the morning it's going to be nearing lunch time. Just at the edge of Phimai town, on the other side of the ancient reservoir built by the Khmer, a huge banyan tree named sai ngam occupies an entire island in a small pond.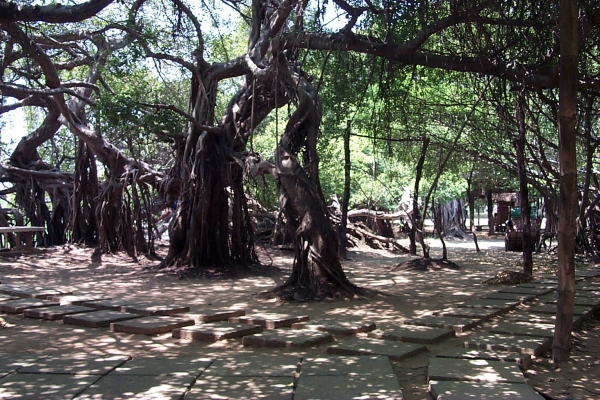 The huge forest of one tree, Sai Ngam
The western name for a Banyan Tree is Golden Fig although it's also commonly known by its Latin name Ficus. The Banyan is very significant in Buddhism as the Buddha supposedly found enlightenment while sitting in the shade of a Banyan Tree. Since the event happened over 2,500 years ago we can't know for certain if this is true, or if the tree is just part of the symbolism of Buddhism. A Banyan reproduces by sending tendrils down from its branches which can take root and form a new tree. Often, as is the case with Sai Ngam, the new trunks stay connected to the parent so that you have one tree, one life, with many trunks, many branches, many lives. Cosmic, yeah? Thais have an extra special affinity for Banyans, as they also regard them as a favorite home for the spirits they think occupy just about everything.
At Sai Ngam you'll find a cool and green place to rest after exploring the ruins of Prasat Hin Phimai. Oh yeah, I mentioned lunch too, didn't I? Sai Ngam is such a popular picnic spot among Thais that you'll find a large selection of food stalls adjacent to the tree's island home.