The Northeastern town of Nakorn Ratchisima, commonly known as Korat, is located about 250 kilometers (160 miles) from Bangkok, Korat is essentially the gateway to a region Thais refer to as Isan, an area with its own distinct culture and cuisine. The city was also home to a major US Air Force base during the Vietnam war era, and over the years since, a lot of veterans have returned to the area to retire.
The city of Korat itself doesn't have a lot to see. The town was established in the seventeenth century. It was originally walled with a moat. The moat and bits of reconstructed wall can still be seen. In front of the western gate (Pratu Chumphon) stands the shrine to Thao Suranaree (left). This nineteenth century heroine was the wife of a city official who, together with a band of other local women, managed to defeat a Laotian invasion by getting the Lao soldiers drunk.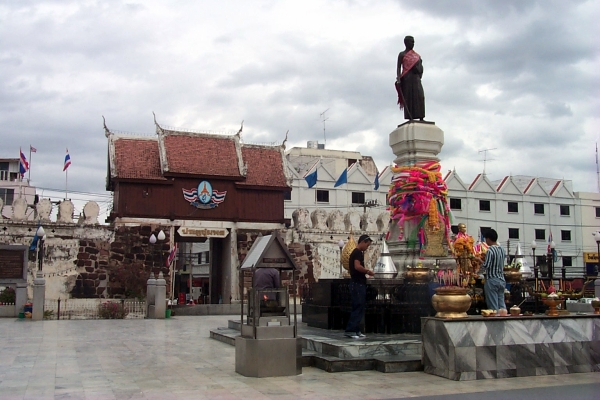 The shrine to Thao Suranaree in front of Chumphon gate
Every year from March 23 to 3 April they hold a festival in Thao Suranaree's honor, and this is perhaps the best time to visit Korat, although be warned that its also one of the hottest times of the year! The area around the shrine is turned into a sort of county fair with many booths selling local products, household goods, etc. There are also a few rides for the kiddies, a stage where local high school bands perform by day and more well known Thai pop stars may be seen at night.
Apart from the annual festival, the main attraction to Korat is as a base for exploring the sights of the surrounding area, such as Phimai, Dan Kwian and perhaps Phnom Rung. There are a few nice hotels in the town, and many of the sights are within a hour drive of the city.