Nakhon Phanom province stretches out along the banks of the Mekong River, which at this point forms the border between Thailand and Laos. Aside from the provincial capital, Nakhon Phanom City, the other place of interest is the city of That Phanom, 50 kilometers south of the city, where you'll find one of the regions most important religious shrines, the Phra That Phanom.
Map of Nakhon Phanom Province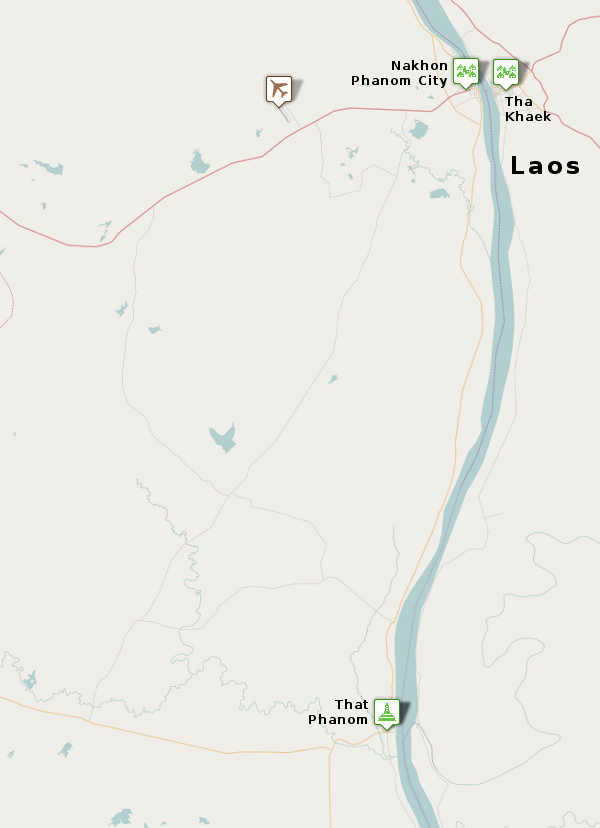 You may click on any of the icons for detailed information.
Base map image © OpenStreetMap contributors, CC BY-SA
Nakhon Phanom is relatively easy to get to, with several flights a day from Bangkok, and there are also bus services from all the neighboring provinces as well as Bangkok. You will find some pleasant, if basic, places to stay in both Nakhon Phanom city and in That Phanom. If you really want to explore the province, then you may want to spend at least one night in each city. Neither really requires more than that, but if you wish to slow down and enjoy some rural Thai life, you can find plenty of diversions in either place.
Like much of Thailand, the best time of year to visit is when it's cool and dry, from October to March or so. See the weather page for more details about annual rain and temperature patterns, as well as a current five-day forecast.