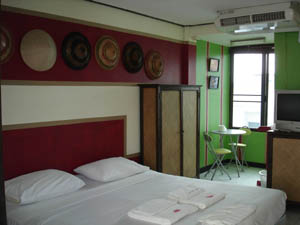 Typical guest room of Seven Suns.

Within the walls of the old city, near some of the city's largest old temples, is a guest house cum small hotel with a mission "to provide continuous high quality services and accommodation at our guest house, support our staff to be their best and seek opportunities to empower those not as fortunate as ourselves to obtain a better life."
Rooms are bright, clean and well appointed for a guest house. They were redecorated in early 2007 and offer you a selection of themes, from the relaxing "double happiness", to the fun "hello kitty". Discounts apply for long-term stays.
The guest house is located at 155 Ratchamanka Road, telephone +66 53 814 325. Visit their web site for more information and current rates. You can also compare rates from several sites using Hotels Combined.