Across the moat on the northern edge of town is a 'new' temple based around an old temple dating back to the fourteenth century. A new elegant wooden prayer hall (wiharn) has been built, along with several quarters for monks.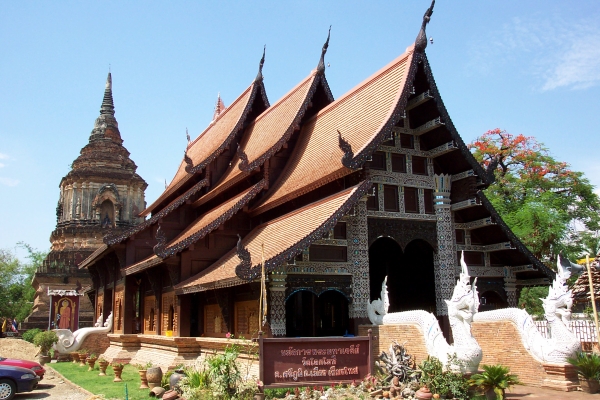 The new prayer hall in front of the old pagoda of Wat Lok Moli
The original Wat Lok Moli was built in 1397. It was probably a royal temple, since the northern side of the city was a royal precinct at the time. The massive square chedi (pagoda) was built in 1541 to house the ashes of King Phra Muang Ked, who was assassinated. The ashes of his queen were also added to the burial chamber when she died.
The pagoda is in a remarkably good state given its long period of neglect. The temple probably fell into disuse during the Burmese occupation, which started in 1556. In particular, the burial chamber, sporting niches on the four sides and guarded by angels at the corner, is in relatively good shape.
The chedi and the brick base of the ordination hall (ubosot) is all that is left of the original temple.
The temple's 'resurrection' began in 2003 with the construction of a new wooden prayer hall (wiharn). The wiharn is built in traditional style, with turned wooden spindles forming the grilles on the windows. The columns of the interiorare finished with a rich ocher lacquer.
A wall separates the temple from the now busy street bordering the moat, and a huge ornate gateway was being completed in mid-2004 to provide a formal entrance to the temple grounds.