The silver ubosot (ordination hall) of Wat Srisuphan
While most of the sights of the silver village are the shops along Wualai Road, there is one attraction that's more spiritual than material. Wat Srisuphan was built in 1502, although little remains of the original temple except the boundary markers (sema stones) around the ordination hall (ubosot). In fact, the chapel is now the focus of renovations that are designed to make it a fitting centerpiece for the silver village it serves. The entire surface of the hall, inside and out, is being covered in silver. The roof is already covered in silver-plated tiles, and on my last visit, they were preparing to cover the exterior walls with beaten silver panels.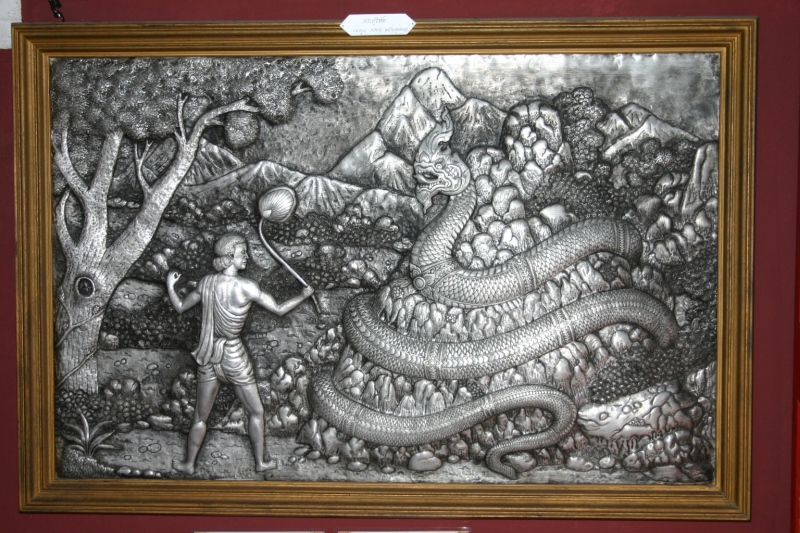 A silver panel in the prayer hall.
The work began about four years ago (2008), and will probably take another two years to complete. There's already a fair amount of silver on display at the temple. In the much larger prayer hall (wiharn), the walls are lined with silver panels, mostly depicting scenes from the Buddha's live(s). The wiharn also houses a large and rather elegant Buddha image on its altar. Next to the altar is an old large ornate sort of pulpit, called a busabok.
The temple also hosts a silver-working school, to help ensure that the tradition of the village is passed on. In addition, Wat Srisuphan is one of many temples around Chiang Mai that offers a "monk chat" program, where lay people can come to talk with a monk, whether it's about Buddhism or life as a monk. Monk chat is offered every Tuesday, Thursday and Saturday, from 5:30 pm to 7:00 pm. You can also get an introduction to meditation on those same days, from 7:00 pm to 9:00 pm.