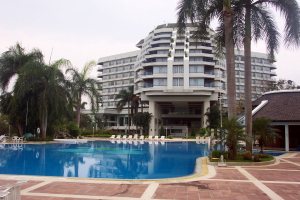 The Dusit Island Resort near Chiang Rai town.

The choice for Chiang Rai city accommodations really comes down to how much comfort you want and how close you want to be to shopping and dining opportunities. The "Center of Town" hotels are just a short walk from the Night Bazaar and the restaurants lining Phaholyothin and Jedyod Roads. The "Edge of Town" hotels are nicer, but a short cab ride away from the center of town. I've listed a few selected hotels below. For more hotel options, you can use the search box below.
Center of Chiang Rai Town
Nak Nakara Hotel

★★★

Within easy walking distance of the sights, but also easily accessible to the highway to the airport and points north. Nak Nakara is a basic but nice little hotel.

Wiang Inn Hotel

★★★★

This older hotel is right in the city center, just a few blocks from the night bazaar.
Edge of Chiang Rai Town
Dusit Island Resort

★★★★★

It's a bit of a concrete monstrosity, but inside the Dusit is quite a comfortable hotel will many amenities, and it's close enough to walk to some of the sights on the northern side of town.

Rimkok Resort

★★★★

Just across the river from the Dusit hotel, Rimkok resort offers a littl more in the way of local style.
The Legend is also on the river, at the northern edge of town. It also features a bit more of the local style with contemporary Thai design.