Every guidebook seems to have a different view of the evolution of the term 'golden triangle' and even disagree on when the term was coined. Most do agree that the term applies to the opium growing region covering northern Thailand, eastern Burma and western Laos.
The Golden Triangle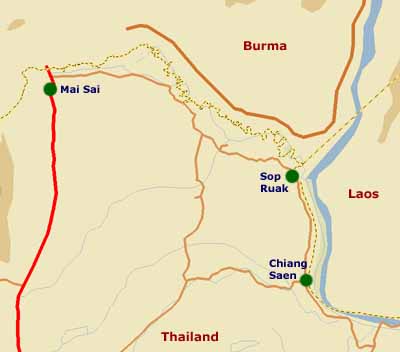 Click on an area for more information.
Opium production has been illegal in Thailand since 1959. Thanks to a highly successful crop substitution program undertaken by the Royal Projects Foundation established by His Majesty King Bhumipol, opium production has largely been eliminated in Thailand. However, across the border in Burma, the Shan United Army, which has been fighting the central Burmese government for an independent Shan state, has been accused of funding its war through the sale of opium and heroin.
Many tourists flock to the Golden Triangle region of Thailand expecting some sort of 'wild west' scene. They are certainly disappointed. The Thai area of the former triangle is full of small quiet villages where the most exciting thing that happens is the arrival of the next tour bus.
The area is full of beautiful natural scenery and ancient temples, so it isn't like it's not worth a visit. Just go with the proper expectations. In fact, the area is proving quite popular for those that want something different, away from the beach scene. To serve them, a number of hotels and resorts have been built in the area, some of them quite luxurious.
The typical sights on a golden triangle tour are the town of Mai Sai, where you can even cross into Burma for some shopping; the small village of Sop Ruak, where the Ruak and Mekhong rivers meet, forming the borders of three countries; and finally the ancient city of Chiang Saen.