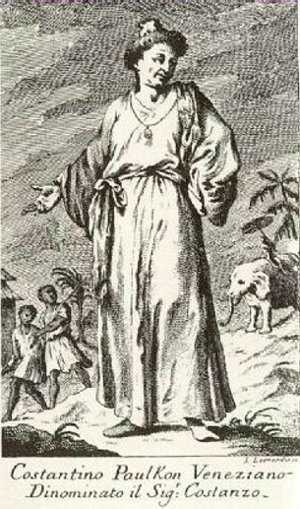 Constantine Phaulkon

The Greek Constantine Phaulkon is perhaps one of the more interesting characters from Thai history. The early details of his life are somewhat sketchy. He was apparently born on the Venetian held island of Cephalonia, but it's not clear who his parents were. At an early age, he joined a ship and moved to London, where he soon entered into the service of the East India Company.
He apparently ended up in Siam as the result of a shipwreck sometime around 1675, or 1679. He somehow became acquainted with the Phra Klang, the Siamese Minister of finance and foreign affairs, and due to his facility with languages, entered the service of the Phra Klang. At some point, Phaulkon was presented to King Narai, who was charmed enough to take him into his own service.
Within a few years, the old Phra Klang died and Phaulkon was given his functions, and apparently many more, becoming in effect the king's chief minister and the second most powerful man in Siam. It was apparently his idea to forge ties with the French, to offset the increasing influence of the Dutch. To this day, Phaulkon's exact motives are the subject of intense speculation, and are probably at the root of many Thai's suspicions about foreigners. The one thing that almost every contemporary account of Phaulkon agrees on is that he was an intensely ambitious and avaricious man, whose every action was calculate to further his own interests.
To host the first French embassy to Siam, King Narai had elaborate ambassadorial residences prepared in both Ayutthaya and Lopburi, which at that time served as Narai's second capital. The house in Lopburi was replete with a church and houses for the large contingent of clergy that accompanied the mission. The house in Lopburi was later used by Phaulkon himself after the French embassy departed. Not much remains except the empty shells of the buildings, but you can still sense the grand scale of the compound.
Unfortunately, when King Narai died in 1689, he was succeeded by a clique of nationalists who had Phaulkon put to death.