Nakorn Si Thammarat is a very long narrow city. The main road, Thanon Ratchadamnoen, runs north - south through its center, and almost all the sights of the city are on this street or within a block or two of it. See the map below of the city for a complete overview of the city's layout and all the sights covered in this guide. There are no taxis per se in Nakorn Si Thammarat, except for motorcycle taxis that can be useful for short trips. The best way to get around is by songthaew, a small pickup with benches along either side of the bed. They travel up and down the main roads and charge 5 or 10 Baht (about US$0.15 to 0.30) per trip.
Map of Nakorn Si Thammarat City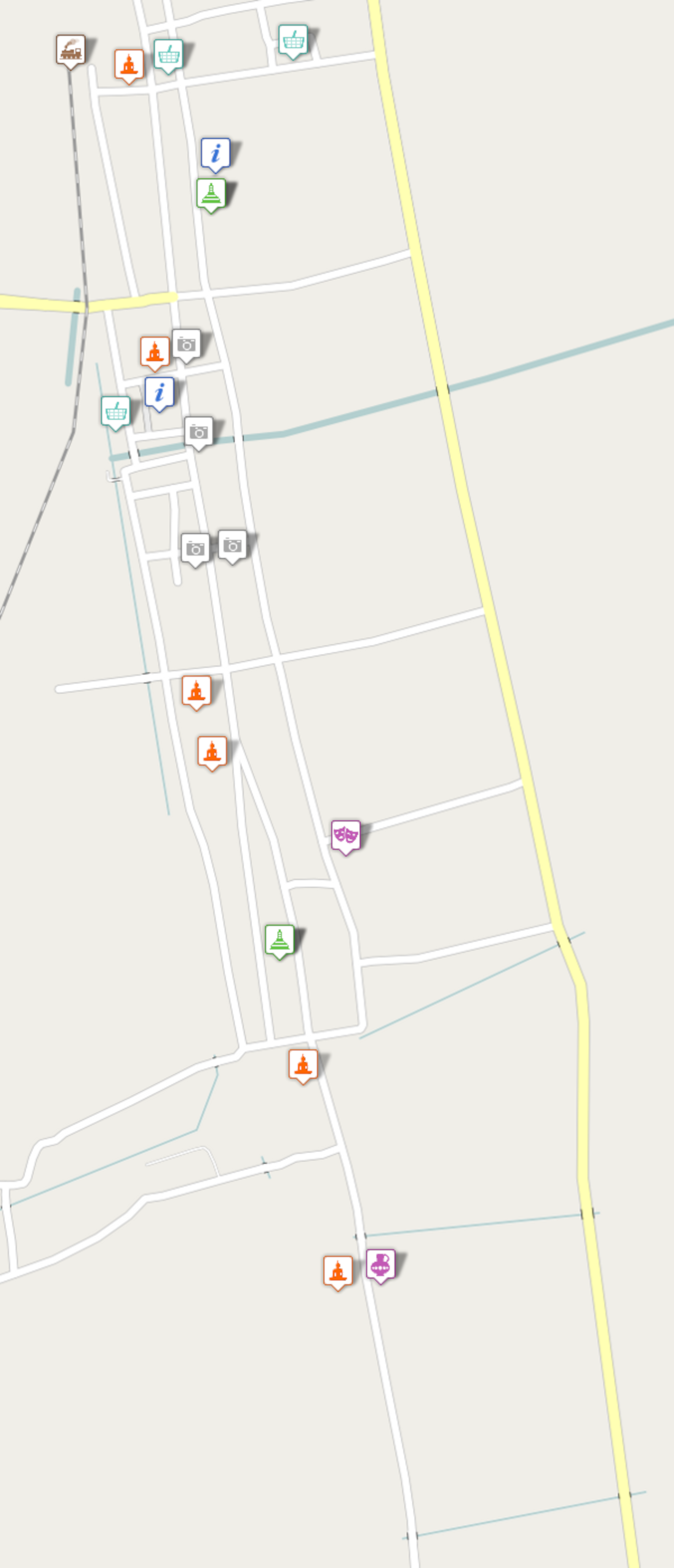 You may click on any of the icons for detailed information.
Base map image © OpenStreetMap contributors, CC BY-SA
The best way to explore the main sights is to start at one end of Thanon Ratchadamnoen and work your way to the other. A trip to Nakorn Si Thammarat absolutely must include a visit to Wat Phra Mahathat. Missing it would be like going to Paris for the first time and not visiting the Eifel Tower. Since the temple is near the southern end of the city, we recommend starting there. The only significant sight further south is the National Museum, but we wouldn't put it on our list of 'must see' places.
On a side street near Wat Phra Mahathat is the home of the south's master of shadow puppetry, Suchart Subsin. Suchart has turned his home into a museum of shadow puppetry where you can see puppets collected from all over the world as well as craftsmen at work making new puppets.
From the puppet museum, you'll want to make your way back to Ratchadamnoen Road and head back towards town. A short distance from Wat Phra Mahathat you'll come to a clock tower at a fork in the road. A little bit further on from here is the provincial administration center, which contains the chapel of the Singh Buddha image.
Further down Ratchadamnoen Road towards town are two tiny Hindu shrines on either side of the road. The Ho Phra Isuan is a Brahmin shrine to Shiva while across the street the Ho Phra Narai is a shrine to Narai, an incarnation of Vishnu.
Just a short walk up Ratchadamnoen Road will bring you to the remains of the old city walls. From here, you may want to cross the old moat and then head west to the shops along Tha Chang Road, or you can continue into town and Wat Sao Thong.