Broad view of Phang Nga bay.
This bay near Phuket, with its fantastical scenery, is a popular spot with tourists. It used to be that the only way to see it was on a tour boat from Phang Nga city, although you could take a boat from a small fishing village near Phuket for a more "personal" tour by the people who lived and worked in the bay. You would still see the infamous "James Bond Island" but the fishermen know at least a dozen more truly beautiful and unique spots.
Starting in the late 1990s there evolved a new option - the "sea canoe" tours. There are several companies now offering these tours. They depart from Phuket, saving the long drive up to Phang Nga town. You ride on a large boat up into the bay. At selected places, the boat stops and you get off the big boat onto the sea canoes, two tourists and one guide to each canoe. The guide does all the work. You just have to keep your camera dry.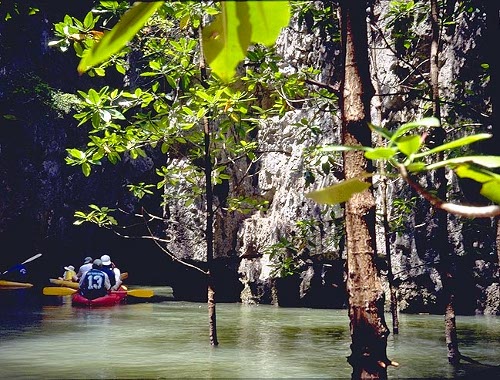 A sea canoe glides through the mangroves.
The sea canoe tours allow you to see things you can't see from the big tour boats, such as the mangrove forests (above) and the many caves hollowed out in the islands. The center of many islands have collapsed, leaving small lakes open to the sky and fantastic formations of rock. These are usually only reachable through small caves opening into the sea. Some of these can only be entered when the tide is low. Its definitely not an adventure for the claustrophobic!
Phang Nga is one of the most unique spots on earth. The landscape is only matched by two or three other places in the world. With the innovation of the sea canoe tours, you can see Phang Nga in a whole new way.
Phang Nga Bay is really a "must see" sight. There are very few places in the world with a landscape like Phang Nga. To make sure you see it, you can book tours in advance through our travel partner Viator.
Phang Nga Tours from Phuket