Khao Lak was well on its way to being Thailand's next big travel destination, and that's when the December 2004 tsunami hit. Almost every resort was hit, and several were completely wiped out. It's take years for the area to recover, but if you didn't know about it, today you would see very little sign of what happened here. Even the memorials, such as the police boat tossed 2 kilometers inland, are rather poorly marked.
Of course, there's very little reason why the events of 2004 should affect your vacation plans. Khao Lak is a sun, sand and sea destination, and an increasingly popular one. There's a wide range of hotels and resorts available, from simple bungalows to five-star international brands.
Map of Khao Lak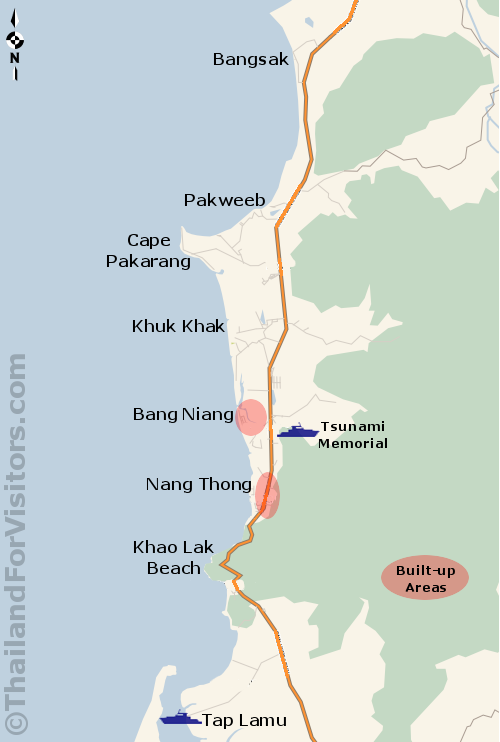 The area generally referred to as "Khao Lak" is actually quite large, running from Tap Lamu harbor in the south up to Bangsak Beach, around 16 kilometers in all. Some of the beaches are fairly built-up, with hotels, resorts, restaurants and lots of shops, while other areas remail less developed. You won't find any ugly high-rise hotels though. Post-tsunami building rules limits the size and height of any new structures.
Things to do in the area includes scuba diving or snorkeling trips to the Similan islands, or adventures to Khao Sok national park, one of the oldest rain forests in Thailand.