26 July 2009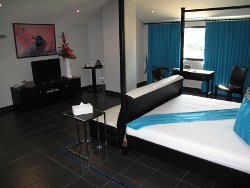 Junior Suite at The Venue, Jomtien

I was pleasantly surprised by The Venue, a relatively new "boutique" gay hotel in Jomtien Complex. I picked it because the location was good, the price was right, and I was running out of hotels to try that were within walking distance of my favorite beach chair. The pictures on the web site looked nice, but my experience with small boutique hotels (gay and otherwise) is that they can be long on style, but short on quality, so my expectations were relatively low.
My "junior suite" was large and well appointed. About the only drawback was a high-backed sofa placed at the foot of the bed, such that it effectively blocked the view of the wide-screen flat telvision from the bed. One other minor flaw - for me - was that the small desk in the sunny alcove would have been great for using the free wireless Internet, but there was no power outlet anywhere near it. Instead I had to hunch over my notebook at the credenza. On a more positive note, I was concerned that the room might be noisy from the cabaret on the first floor, but while I did hear a bit noise, it wasn't disturbing at all.
Hotel facilities include a small swimming pool and a spa. Wi-Fi is freely available throughout the hotel.
Rooms feature air conditioning, hot and cold water, refrigerator, complementary coffee and tea, flat-screen color televisions (many channels), DVD player and IDD telephones.
Pluses: Good location near the beach and close to several restaurants.
Minuses: The noise from the cabaret might disturb someone trying to make it an early night.
Rooms at the The Venue may be booked through their web site.