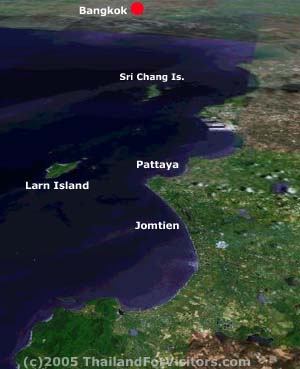 Sattelite view of the east coast.

Pattaya's main attraction is its long curving beach. At the north end, the Dusit Resort occupies a small promontory. Beyond the Dusit is a series of small bays, each with its own hotel. At the southern end, a hill rises and extends well into the sea. At the top of the hill is a temple with a large seated Buddha at the crown. There's a good view of all of Pattaya bay from the temple.
Beyond the hill, south of Pattaya, is Jomtien beach, another long stretch of beach. The beach is slightly deeper than Pattaya, and the section just south of the hill is very popular with Thais. There are many sections here where you can rent a beach chair and order food and drinks from staff serving that section. Numerous vendors also pass by offering fruit, ice cream and many other things, including massages.
At the north end of Jomtien is my favorite beach area in Pattaya, perhaps one of the best in Thailand, for me. The area is known as Dongtan Beach. The beach road here is a pleasant brick path that is closed to cars during the day, so you don't get the street noise that can disturb you at the other beaches. The beach chairs are set high on the beach under umbrellas that are staked so closely together that you never get any direct sun, unless you want to. You can order just about anything you want to eat or drink from the staff, and it will be delivered right to your chair, for which you will only be charged 30 Baht (0.78 USD) for the entire day. The beach is also where you'll find one of Pattaya's few low density accommodations, the Thai-styled Rabbit Resort.