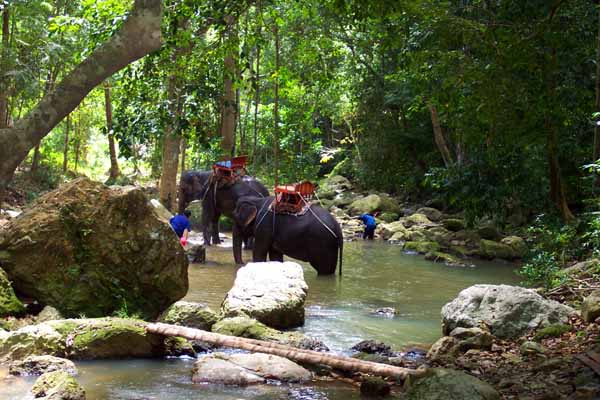 Elephants getting their daily bath.

Samui can be a problematic destination for families with young children. There are not a lot of things to do away from the beach, and the night life in the main resort towns is definitely very adult oriented. However, there are a couple of things that might keep the kids busy for a while:
South of Lamai Beach, in the Samui Orchid Resort, is the Samui Aquarium. Compared to most modern aquariums, the small tanks can seem a bit Victorian, but the kids will be too busy looking at the lion fish, sharks, and other sea creatures to notice. The center also has a collection of tigers and birds. The best time to visit is for the daily show at 13:30 in the afternoon. You can call the Aquarium on tel. 077-424-017 and arrange transport to the show. The entrance fee is THB 350 for adults and 200 for children, regardless of whether or not you take in the show.
Near the Aquarium is the Butterfly Garden, housing dozens of species of the colorful insects. Entrance is THB 150 for adults, 80 for children.
Something almost guaranteed to make your vacation memorable for your kids is an Elephant Safari. There are a couple of companies offering elephant treks and other diversions. One is the Namuang Safari Park, located near the Na Muang falls. They offer a variety of programs ranging from two and half hours up to five hours. Costs range THB 950 to 1,600 for adults, 700 to 1,150 for children. Prices include hotel transfers and meals on the longer programs. You can usually arrange a tour through your hotel, or call 077-424-098.