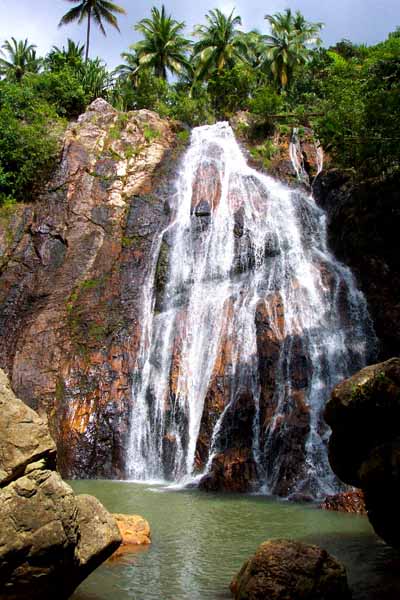 Na Muang Waterfalls

In the interior of Samui Island are a number of waterfalls that can make an interesting change of pace when you tire of the beach scene. The most popular of these are the Na Muang falls, so called because the rock face is purple.
The Na Muang falls lie south of the island's central peaks, at about the midway point between the two coasts. A paved entrance road leads off the main street connecting Hua Thanon, south of Lamai, to Nathon. There are actually two tiers to the falls. The higher tier requires some trekking, on foot or elephant, to reach.
The lower tier is 30 meters high with water cascading over a sheer rock face into a deep pool that can be nice for swimming if there aren't too many other people.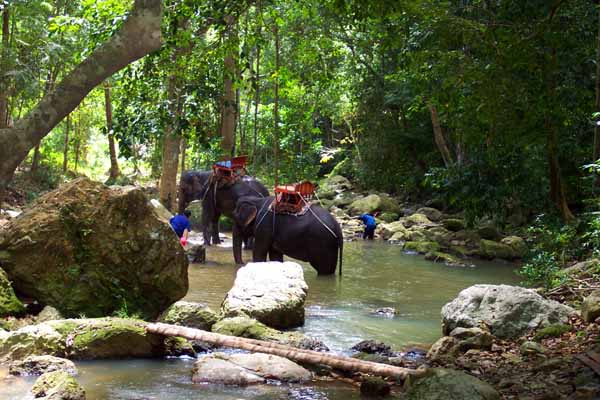 Elephants getting their daily bath.
Along the path leading to the falls from the parking area are several souvenir stalls as well as some food stalls that can prepare 'real' Thai food at quite reasonable prices compared to many of the island's restaurants.
Just off the parking lot is a place where you can get an elephant to take you up to the other set of falls, or elsewhere in the interior. Further down the access road from the falls is the self-styled 'Namuang Safari Park' offering elephant rides, monkey shows, and just about anything else to make a buck. Its a bit cheesy but might be good fun if you have children with you.
Other Waterfalls
About 3 kilometers from Nathon town is the other notable waterfall, Hin Lat. There are two other falls further in the interior, but these rarely figure in any tourist itineraries.