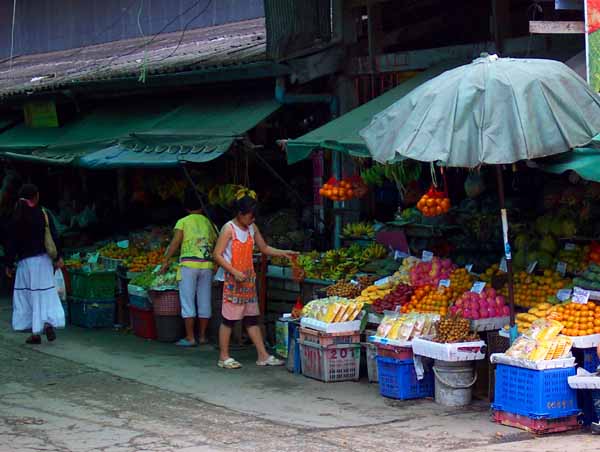 The fresh market in Nathon town.

If you travel to Samui by boat from the mainland, you'll most likely land at Nathon, the island's main town. Although its the island's administrative center, Nathon long ago lost its place as the main population center. Because of this, there's not much of any reason to visit Nathon if you're not catching a boat.
The layout of the town is rather simple. Two piers extend into the sea at the north end of town. A seaside promenade stretches south from the piers. Another road parallels the promenade and the two are connected by a series of small side streets. There's a number of stalls selling cheap beachwear along the side streets, and a large fresh market on the back street, but neither of these offers anything you can't get in greater variety in Chaweng.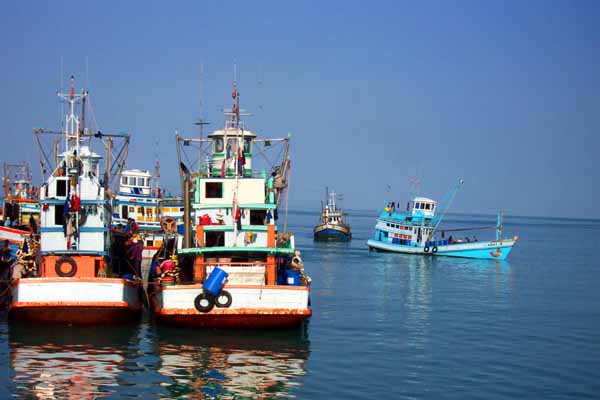 Fishing boats tied up at Nathon's main pier.
Nathon is also home to the island's fishing fleet, which supplies the huge number of seafood restaurants on the island. The boats tie up at one of the piers and can be seen most mornings before they head out in the late afternoon or evening for a night's fishing.
If you want to sample some of the catch of the day, there are several restaurants at the south end of the seaside promenade. Pride of place right on the seaside belongs to Sunset House, where you can indeed watch the sun set into the sea while sampling the reasonably priced seafood dishes.
Nathon's piers is also where most of the day trips to Angthong National Marine Park depart. The tour operators will normally pick you up at your hotel and send you back, but you can always skip the free ride home and stay around town for dinner.