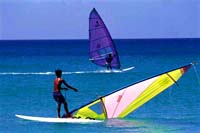 Windsurfing in Pattaya

There's a wealth of outdoor activities and sports opportunities available in Thailand. Below are some links to good sites with details on some of the most popular activities.
Thai Boxing (Muay Thai)
There is perhaps no sport more associated with Thailand than kick-boxing, or muay Thai as it's known in Thai.
Deep Sea Fishing
It might not be the first thing that comes to mind, but there is excellent fishing to be had in the Andaman sea.
Diving
See our complete on-line guide to diving in Thailand at SEA Undersea.
Diving Guides to Thailand